Glass Panels
Our toughened safety glass panels used in glass pool fencing are tested to meet the requirements of the glass standard AS2208. Each glass panel has a small transparent licence stamp displaying the PASMark logo and licence number on each panel of glass ensuring Australian Standards compliance.
The range includes over 200 hundred stock sheet sizes that we keep in our warehouse, glass types include: frameless, pin fixed, hinge panels, gates and retaining wall panels. The use of such a large range of stock panels greatly reduces the reliance on manufacturing custom made glass and it
Australian Standards Approved
AS2208 12mm Toughened Safety Glass
Over 200 standard modular sizes in stock
Cost Effective Standard Glass Panels
Flat polished edges and rounded safety corners
PASMark Compliance Licence Stamp
Over 50 Hinge and Gate Panel Sizes
Retaining wall panels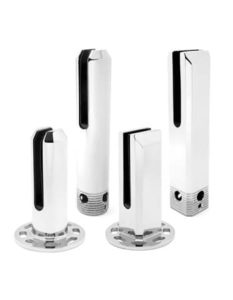 Spigots & Standoffs
Our spigot range includes three main categories, core drilled, base plated and side mounted, they all have specific use cases based on the installation method.
2205 Duplex Stainless Steel
Pool Fence & Balustrade Compliant
NATA Tested & Engineered
Matt Black & Polished Finishes
Standards: AS1926, AS1170, AS1288
Range of shapes and sizes
Custom Colour Options
Compliance for AS3000 Electrical Earthing
Base Plated/Flanged spigots
Used when mounted to the top of a deck or timber subframe.
The framing under the deck requires additional supporting timber to allow the spigots to be adequately secured. For new structures a small amount of additional work is required to add more timber along the fence line.
For existing decks, it may be required to remove decking boards and install additional strengthening to the subframe prior to the installation of the pool fence.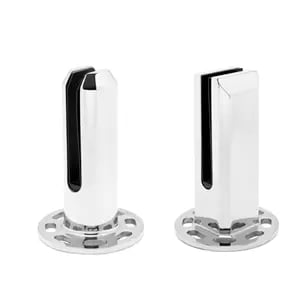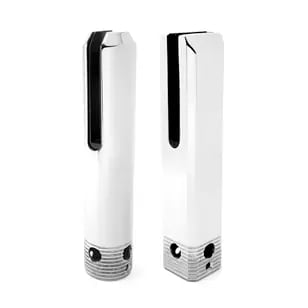 Core drilled spigots
Used when mounted to concrete slabs that are tiled or paved.
The installation method involves non destructive diamond core drilling of a 76m m hole through the paver/tile into the concrete slab and removing the plug from the hole, the spigot is placed in the hole with the panel of glass attached, it is then levelled and secured in place with a high strength grout that permanently bonds the hardware in place.
Once grouted in place a dress ring cover is fitted to finish the installation. This method of installation strongest and most stable of all methods and allows for greater adjustment of levels and allow slopes on paved areas.
Side Mounted Spigots & Standoffs
Used when mounted to the side of deck, timber or steel subframe, or a solid masonry/concrete wall.
The use of side mounted spigots and the requirements for the substrate they are being used on requires special advice to ensure the planned application is suitable.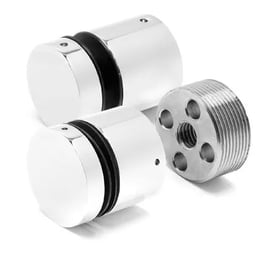 Glass Gates
Glass gates are separated into two types, standard and soft closing glass gates.
Structural grade aluminium
Option of matt black, anodised or custom finishes
Requires planning to ensure suitable foundations
Concealed or visible channel options
Nata Tested to Australian Standards 1926, 2208, 1288, 1170
12mm Toughened Safety Glass
Cost Effective Standard Glass Panels
Minimalist finish with no visible hardware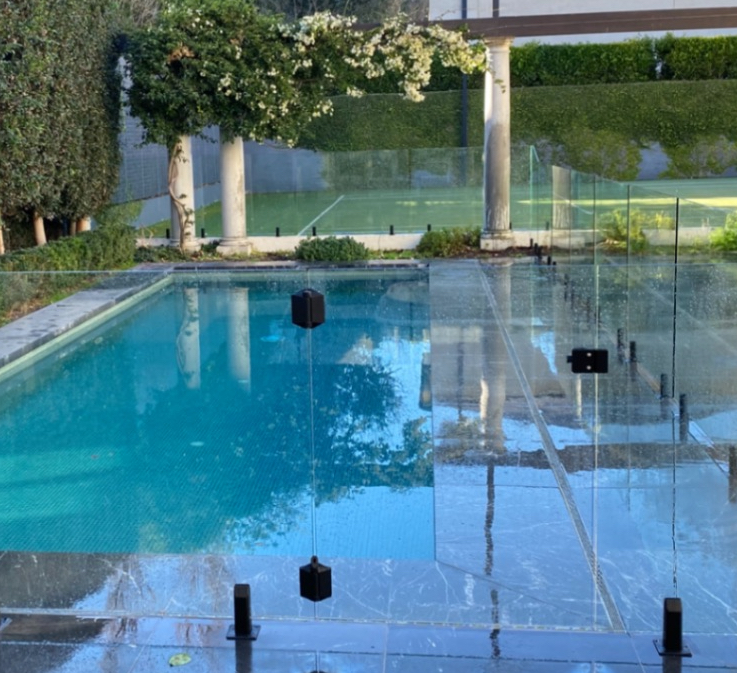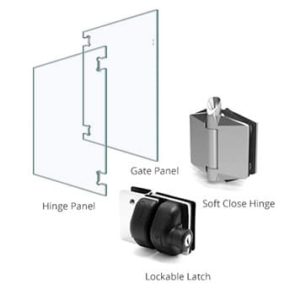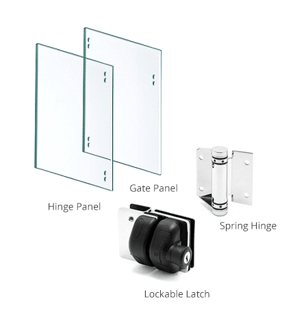 Soft Closing Gates
Glass pool fence gate with a damping system that prevents the gate slamming closed, using 12mm glass.
Soft closing gates are the preferred gate type as they are more refined and don't slam closed, the hinges are constructed from 2205 Duplex Stainless Steel with integrated dampers that work like a soft closing drawer, the hinges close at the same speed as a standard gate but just before they close the dampers slow the closing action to prevent slamming. If you have kids running in and out of your swimming pool soft closing hinges are a must! The glass gate panel is made from 12m m thick safety glass.
Standard Gates
The entry level glass gate with 8mm glass.
Standard glass gates are the most cost-effective gate type for frameless glass pool fencing, the hinges are lighter duty and use thinner 8mm glass as it is lighter in weight for the lighter duty hinges. The hinges are adjustable for closing tension and are self closing to meet the pool fence compliance requirements.
Gate Configurations
There are infinite numbers of installation scenarios for glass gates, the one criteria that always remains the sam e is the pool fence gate must open away from the pool as mandated in the Australian Standards.
There are specific rules about the location of laches and the spacing of hinges to meet compliance requirements and we ensure those points are covered off in our design.
Gate Sizes
The standard glass size is 850mm wide, which is about the same size as the internal doors in your home. Larger gates are available for wider access but require additional planning in the setup of your fence to ensure the adjacent panels can support the extra weight.
The largest gate width available is 1000mm.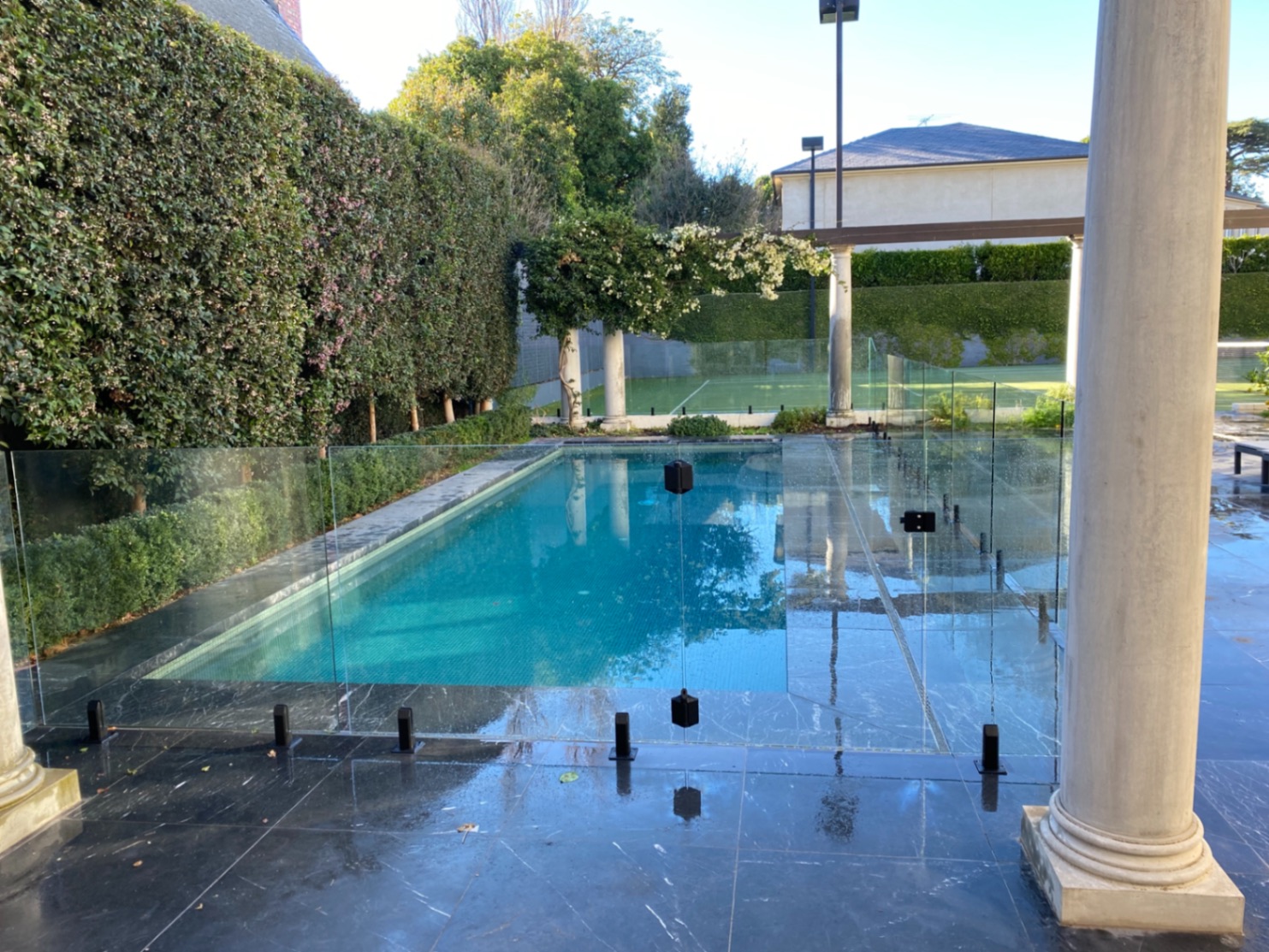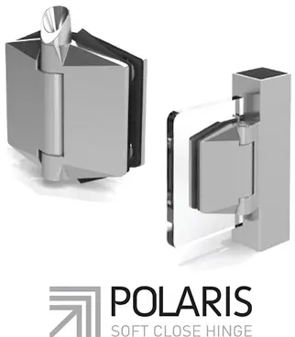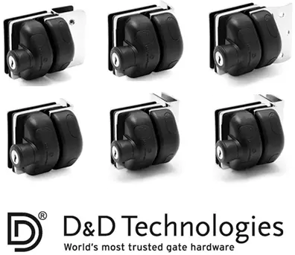 Soft Close Hinges
We range the Polaris soft close hinges for wall mounted and glass to glass installations.
Polaris hinges are available in mirror polished stainless steel and matt black powder coated finished
Standard Hinges
We range standard hinges as the cost-effective gate option
Standard self closing hinges are available in mirror polished and matt black finishes.
Gate Latches
We install D&D Technologies Magna Latch series of latches that are key lockable, we won't compromise on using anything less than D&D, the world's most trusted gate hardware brand.
D&D latches are made in Australia and offer a limited lifetime warranty.
Book Onsite
Measure & Quote
We have professional pool fence and balustrade experts ready to help you.
Book Now

⟶
Send Us Your
Building Plans
For a free glass pool fencing or glass balustrade quote.
Send Plans

⟶
Call Us
We're always available and ready to take you call.
1300 345 277

⟶