Frameless Glass Pool Fences
Easy to install and Australian standards compliant
Add the finishing touch to your pool project with stylish frameless glass pool fencing. Toughened 12mm safety glass with 2205 duplex stainless steel spigots is a simple, stylish, cost effective and safe pool fence barrier.
We stock what you need
When it comes to frameless glass pool fencing, with 39 ready-made glass panels, 13 gate combinations, 10 spigot models and every hinge and latch combination possible, we have everything you need, in stock, at our Melbourne warehouse ready for pickup or nationwide shipping.
Competitive Pricing
We aim to be competitive in our market with fair pricing and great service, we are not the cheapest supplier and far from the most expensive.
10 Year Warranty
All our products come with a 10 year product warranty. If a product fails* within 10 years we will replace it.
Free Design Service
Make your ideas come to life with a free design consultation with one of our glass fencing experts.
Fast, Low Cost Shipping
We deliver our glass pool fencing and balustrade all around Australia, quickly and at the best rates.
All the frameless glass pool fencing products you will need.
Always in stock.
We have every product you need to build and install your frameless glass pool fencing.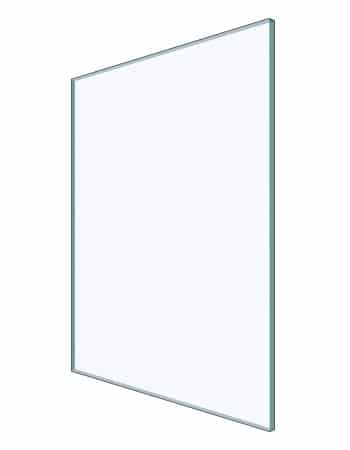 12mm frameless glass pool fencing panels
From $33.00
Our certified glass panels are 1200mm high and are available in 39 standard sizes from 100mm wide to 2000mm wide (in 50mm increments).
39 stock panel sizes
12mm toughened safety glass
Flat polished edges
2mm radius polished corners
CSI Pas-Mark Certified to AS2208
Pool fence compliant
Tough cardboard packaging
Plastic corner protectors


VIEW 12MM FRAMELESS GLASS POOL PANELS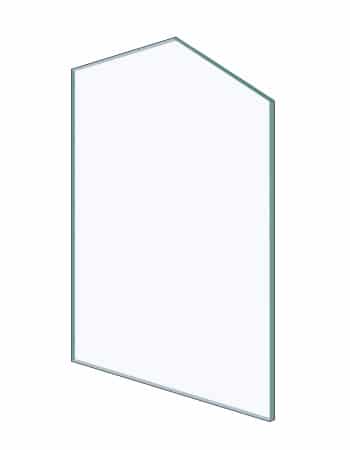 12mm raked pool fence glass panels
From $156.00
Avoid the cost of custom-made glass panels by using ready-made raked retaining wall panels. Panels are available in 6 sizes, 1200mm wide ranging from 1300mm high to 1800mm.
6 stock panel sizes
12mm toughened safety glass
Flat polished edges
2mm radius polished corners
CSI Pas-Mark Certified to AS2208
Pool fence compliant
Tough cardboard packaging
Plastic corner protectors


VIEW 12MM RAKED POOL FENCE GLASS PANELS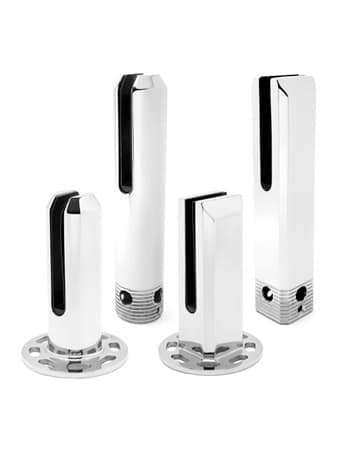 Glass Pool Fence Spigots
From $93.50
Our frameless glass pool fence spigots are manufactured from 2205 duplex stainless steel which offers superior strength and corrosion resistance compared to commonly used stainless steel grades.
Square, angular and round versions
Core drilled and surface mounted spigots
Superior corrosion resistance
2205 duplex stainless steel
Friction fit (no need for holes in glass panels)


VIEW GLASS POOL FENCE SPIGOTS
Soft Close Glass Gates
From $105.00
For the very best in glass pool gates choose our soft close glass gates. All our components are tested and certified to Australian standards and are pool fence compliant.
10 gate sizes
10 hinge panels
5 latch configurations
3 hinge types
Tested and certified to Australian standards
Pool fence compliant


VIEW SOFT CLOSE GATES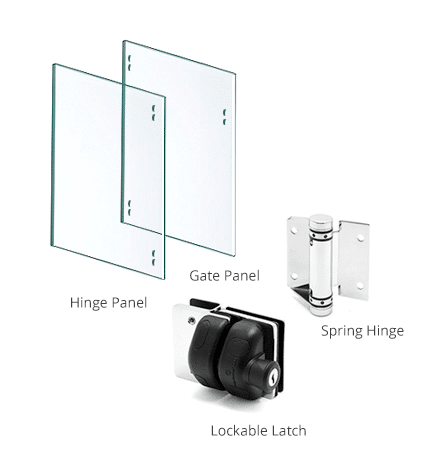 Standard Spring Hinge Glass Gates
From $72.00
The most cost effective glass pool fence gate option is to use spring hinges. All our components are tested and certified to Australian standards and are pool fence compliant.
13 gate sizes
10 hinge panels
5 latch configurations
3 hinge types
Tested and certified to Australian standards
Pool fence compliant


VIEW Standard Spring Hinge Glass Gates
Glass Clamps
From $19.80
Glass clamps are perfect for use on wooden decks where the timber subframe can move in seasonal weather changes keeping your fence line perfectly straight.
Glass clamps for all fence configurations
316 Stainless Steel to ASTM A554
Suits 12mm glass panels
Superior corrosion resistance


VIEW GLASS CLAMPS
Finally…safe pool fencing that improves your home's value
At an unbeatable price.
Unattractive pool fences are a thing of the past thanks to our innovative glass fencing designs which maintain a strong focus on pool safety.
The Latest in Glass Railing Designs
Our glass railing designs are available in frameless. The frameless methods of fixing include: set with stainless steel spigots, pin-fixed with stainless steel standoffs, and a frameless glass pool fencing channel system.
We are exceptionally proud of the highest quality 12mm glass we manufacture for your glass fence panels. Thanks to the additional strength and durability this affords, our glass panels are superior to 8mm and 10mm products available. The tempering process we use results in Grade A toughened glass which adheres to Australian Standards for glass pool fencing. This glass is an incredible five times the strength of regular window glass. Should our stock glass panels sizes be unsuitable for your project, we offer custom-made toughened glass panels.
The stainless steel components, like frameless glass pool fencing spigots, offer high quality, lightweight material which is incredibly durable, but still cost-effective.
1. Australian designed
Our innovative designs are developed in Australia, from our international research and development endeavours.
2. Produced in our factory
Our production plants in China manufacture to our designs and specifications.
3. Australian in-house testing
Rigorous in-house testing is conducted at our Melbourne testing facility.
4. Australian independent testing
Stringent testing by a third-party ensures our products meet Australian National Association of Testing Authorities (NATA) accreditation guidelines.
The ultimate in pool fencing safety
Most people associate glass with fragility, breakage and shattering. However, glass pool fencing does not have these undesirable qualities because the panels are Grade A toughened safety glass. It is so sturdy and thick that it is exceedingly difficult to break. Frameless glass pool fence panels are manufactured using a tempering process that changes the structure of the glass, spreading the load across the entire panel. This means that if the panel should ever be broken, it will not shatter into sharp, dangerous shards. Instead, it will crumble into chunks which are less likely to cause injury.
Now that we've determined the glass itself is as safe as possible let's look at the purpose of pool fencing and why glass pool fences are so safe. Many factors make frameless glass pool fencing an excellent choice for a barrier to keep children safe:
The glass is a very smooth surface which makes it difficult to climb.
Frameless pool fencing that complies with Australian Standards means the gaps are too small for any child to squeeze through.
Exact Glass supplies D&D side pull series latches. When correctly fitted to the inside of pool gates, these latches 'self-latch' magnetically without mechanical jamming. This ensures the gate can't be left unlatched. D&D latches also incorporate a keyed lock for additional safety and peace of mind.
Our hinges are self-closing to prevent gates from standing open when not in use.
Glass Pool Fencing Aesthetics
Aesthetically improve your backyard by installing the latest in fully frameless glass pool fencing design.
Unobtrusive design
You have a beautiful view of your pool and beyond, with no bars or rails to detract from it.
Contemporary style
The combination of glass with stainless steel fittings offers modern appeal like no other type of pool fencing.
Open up small backyards
Glass is the ideal fencing material if you have a small yard because it will give the illusion of space. This is superior to other fences which will noticeably divide the area.
Look newer for longer
Unlike other forms of fencing which rust and oxidise heavily, when kept clean, a glass pool fence will keep your backyard looking brand-new.
Of course, keeping your fence clean will keep it looking crystal clear. Luckily this is very easy and inexpensive to do because all you need is warm soapy water and a microfiber cloth! Once you have cleaned your fence, rinse it with the hose and then squeegee it to prevent moisture smudges. For any persistent dirt, a spray with water and vinegar will do the trick. You can rest assured that the beautiful look of your glass pool fence is here to stay because Exakt Glass provides a full warranty on all materials and workmanship.
Managing installation and cost expectations
Because there is so little hardware needed for this type of installation, it can be done quite quickly – whether you choose to DIY or hire an experienced installer. Of course, it will depend on the type of system you decide on. But, let's take a look at the general process of how to install frameless glass pool fencing so you can make a more informed decision.
We always recommend two people handle the glass panels and keep in mind you need a flat, clean surface, preferably with rubber blocks to rest the panels on before installation.
So, what you should expect a glass pool fence to cost? You can expect a frameless glass pool fencing price starting from $100 per square meter, with glass pool fencing installation from $200 per square metre. It's essential to keep in mind when comparing a frameless glass fence price to prices for other types of fencing that frameless glass fences offer the best in durability and long-lasting fencing solutions.
Useful resources for planning and buying a glass pool fence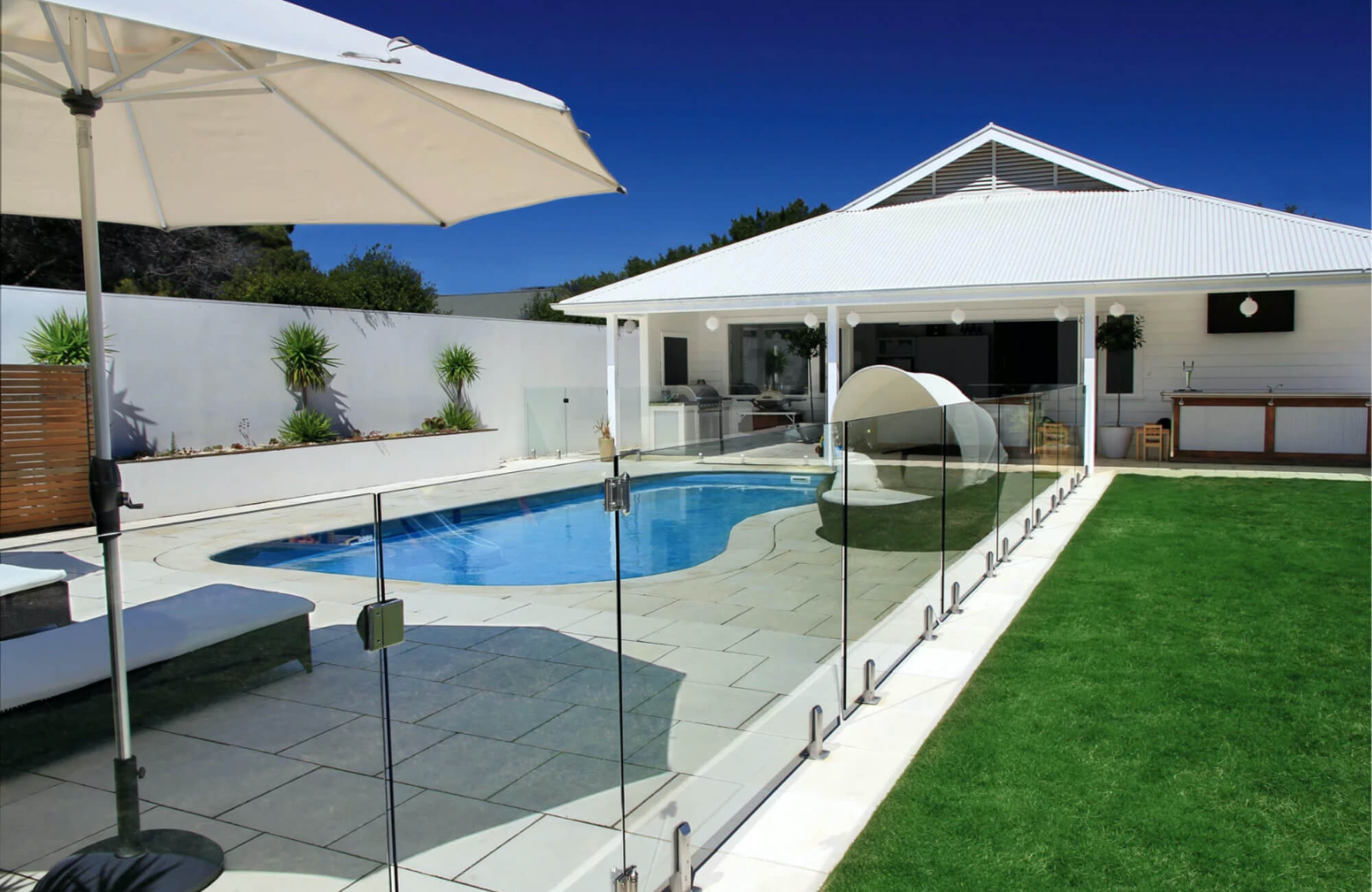 Glass Pool Fence Buyer's Guide
A complete guide to planning and installing a glass pool fence.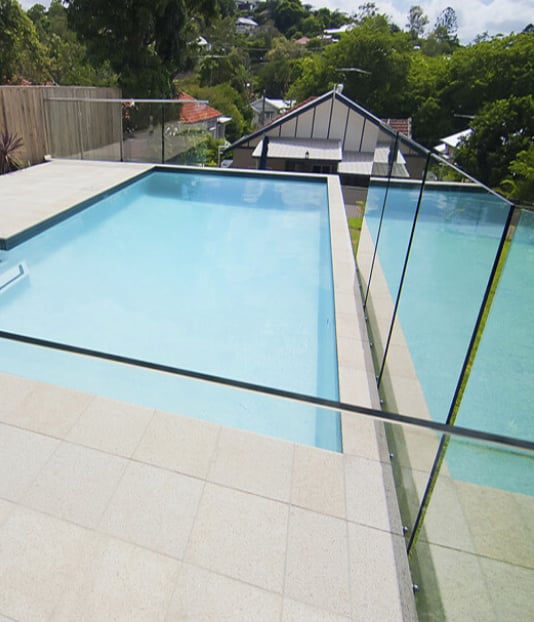 Australian Pool Fence Laws
Safety always comes first. Read your local pool fencing laws.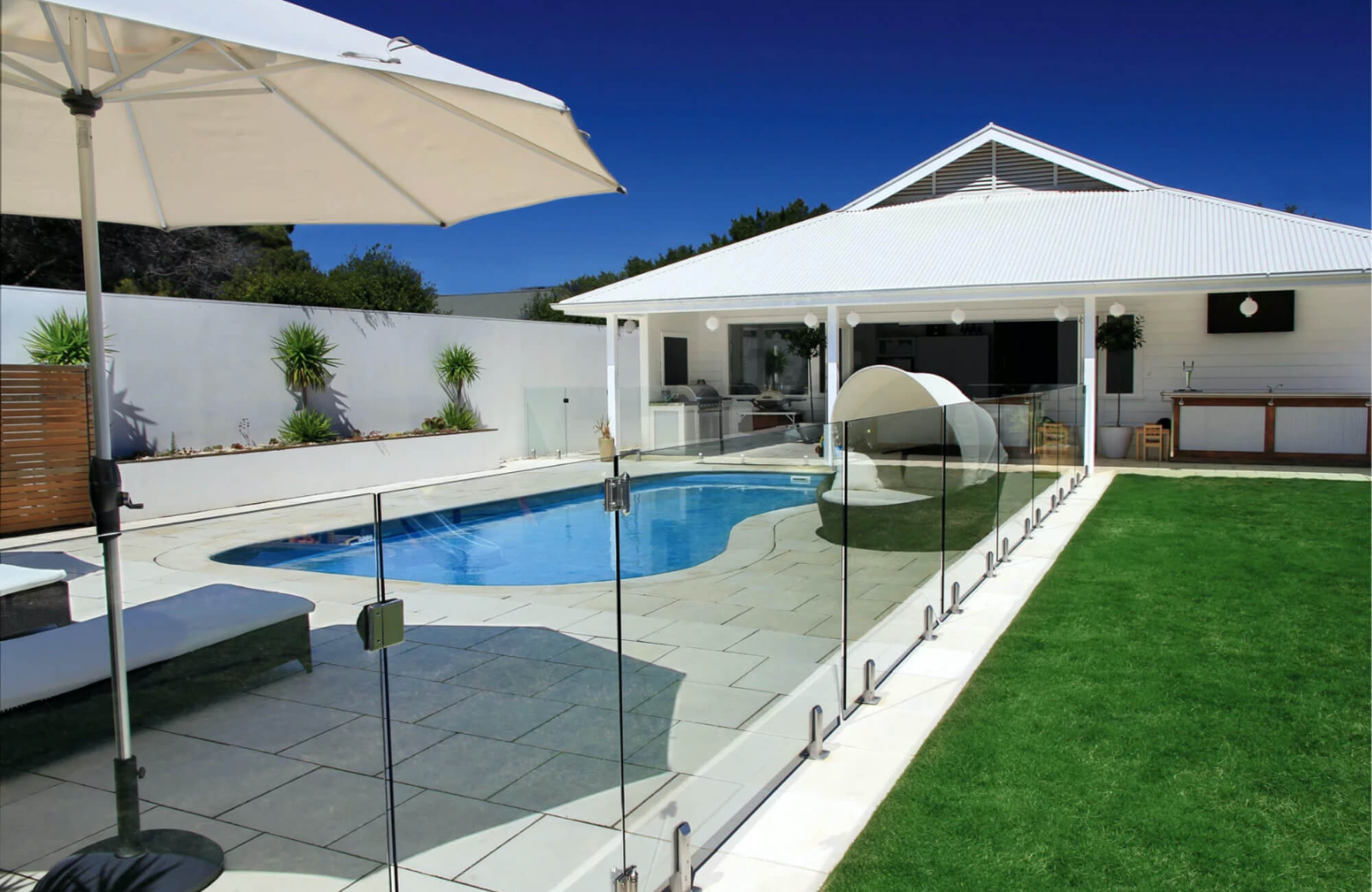 Glass Fence Calculator
Calculate what products you need for your fence and how much it will cost.
Australian pool fence laws
Safety always comes first. Currently, Australian Standard AS 1926.1-2012 – Safety Barriers for Swimming Pools, is the default reference benchmark for pool fence regulations. But, exceptions and variations may apply from state to state as far as pool barrier laws, licensing, compliance and registration requirements go.
Frequently asked questions about glass pool fencing
If there is anything else you would like to know, please do not hesitate to get in touch.
How to install glass pool fencing?
Glass fencing is easy to install when you have the right instructions, head over to The Installation Hub for all the guides, tips and advice you need for installation.
How to keep glass pool fencing clean?
How much does glass fencing cost?
The cost of frameless glass pool fencing varies by a number of factors, bigger panels of glass on long runs of fence are cheaper than lots of small section because less hardware is used to secure the glass. The number of gates used in a fence also adds to the cost, one gate is cheaper than three, the type of gate used can be a big cost factor, premium soft closing gates cost more than standard gates. For an instant price on a glass pool fence use our Online Calculator.
How to install glass pool fence spigots?
Pool fence spigots are installed in two ways, bolted down or core drilled. See detailed installation information in The Installation Hub.
Which way does a pool fence gate open?
The gate must open away from the pool into the safe zone. Pool fence gates must not be kept in the open position. See more detailed information about pool fence laws.
What is the maximum gap allowed for a pool fence?
No gaps in the pool fence can bigger than 100mm, that means the gaps under or beside the fence or in any part of the barrier can't be bigger than 100mm or 10cm. Read more about pool fence laws.
What is the legal height of a pool fence?
The height of the pool fence has to be a minimum of 1200mm, (1.2m or 120cm) above the ground in all areas of the fenced section.
Accreditation
When you buy your DIY glass fencing from us, you can guarantee that you'll be getting glass that's certified to Australian standards. All our glass pool fencing panels are Grade A toughened safety glass.
You can rely on our DIY glass balustrade and pool fencing to keep you and your family safe.
Speak with us today
1300 930 805

Don't hesitate to call us

Open hours

Mon - Fri: 8.00am -5.00pm / Closed on Weekends

Head office

1/ 158-168 Browns Road, Noble Park North VIC 3174