Frameless Glass Pool Fencing

Frameless glass pool fencing is the most widely used type of glass fencing. It is a simple system of standard off-the-shelf glass panels used with glass clamps called spigots, two spigots are used to clamp the glass at the base of each panel securing them to the ground.
This type of glass pool fencing is cost-effective and adds a luxurious finish to a pool fence project.
Frameless glass fencing is suitable for installation on tiles and pavers on concrete slabs and timber decks. For areas that don't have a concrete
foundation or slab such as garden beds or grass areas, a concrete strip footing can be installed to allow glass installation. As glass panels are subject to wind loads a sound foundation is key to ensuring a safe and long-lasting glass fence.
Australian Standards Approved
AS2208 12mm Safety Glass
2205 Duplex Stainless Steel Hardware
Cost-Effective Standard Glass Panels
Luxurious Finish
Fast Installation
Modular System To Suit All Designs
Frameless Gate Panels With No Posts
Low Maintenance
Polished Stainless Steel & Matt Black Hardware
Pin Fixed Glass Pool Fencing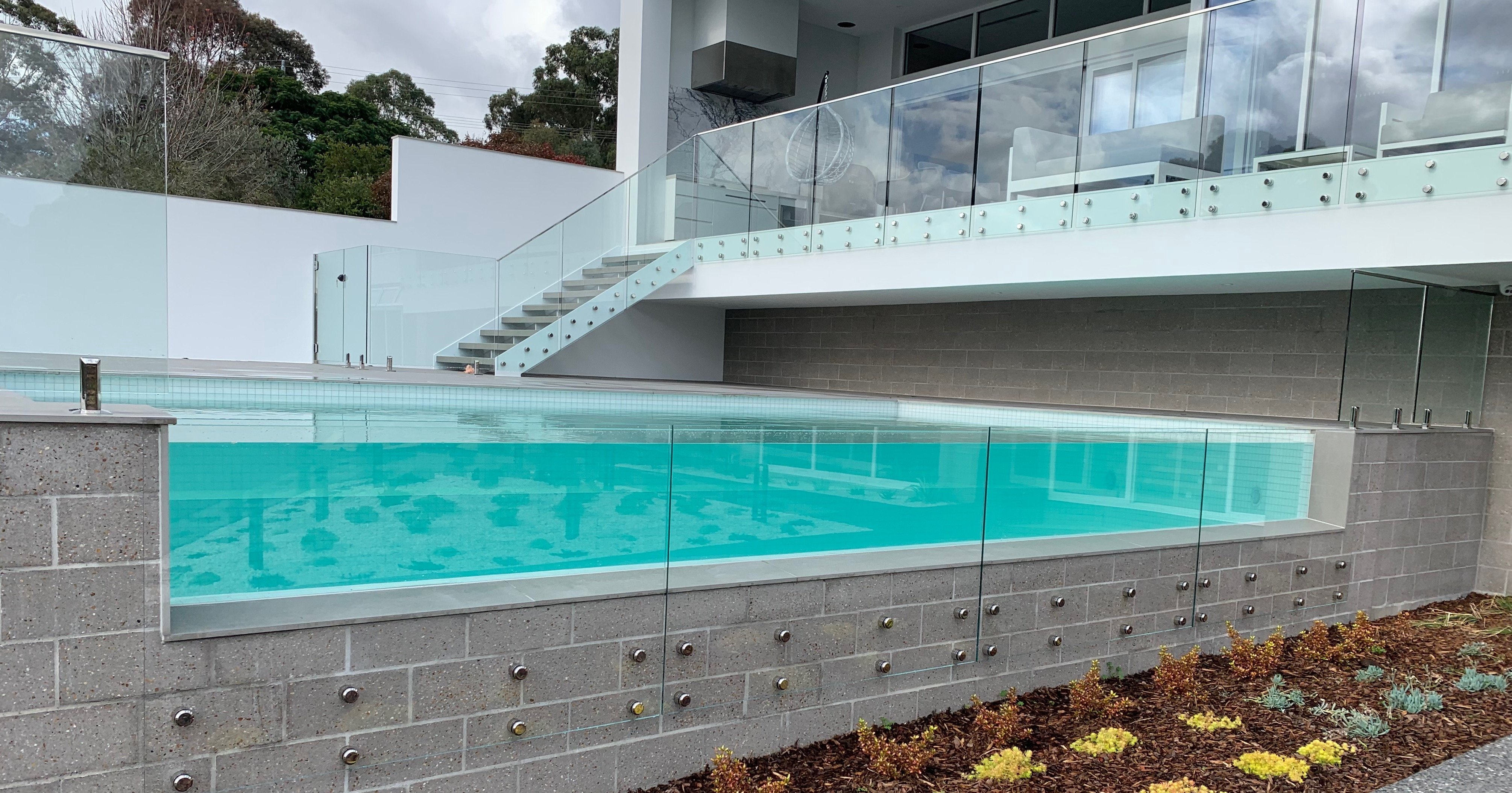 Fixed or Standoff glass pool fencing is a frameless glass system that is installed to a vertical wall or frame and not on the ground, this system uses stainless steel discs called standoffs or pins that are bolted to the frame or wall of a structure and then project up with no visible hardware from the platform.
The pin-fixed system uses stock glass panels for most applications but can also be custom-made for different applications. The face-mounted glass has specific requirements for installation and needs sufficient room from the platform to the ground to allow adequate room for the hardware to be installed.
Uninterrupted Views
Option of matt black or polished hardware
12mm Toughened Safety Glass
Nata Tested to Australian Standards
Low Maintenance
Cost-Effective Standard Glass Panels
Requires planning to ensure suitable foundations
Modular System To Suit All Designs
Channel Glass Pool Fencing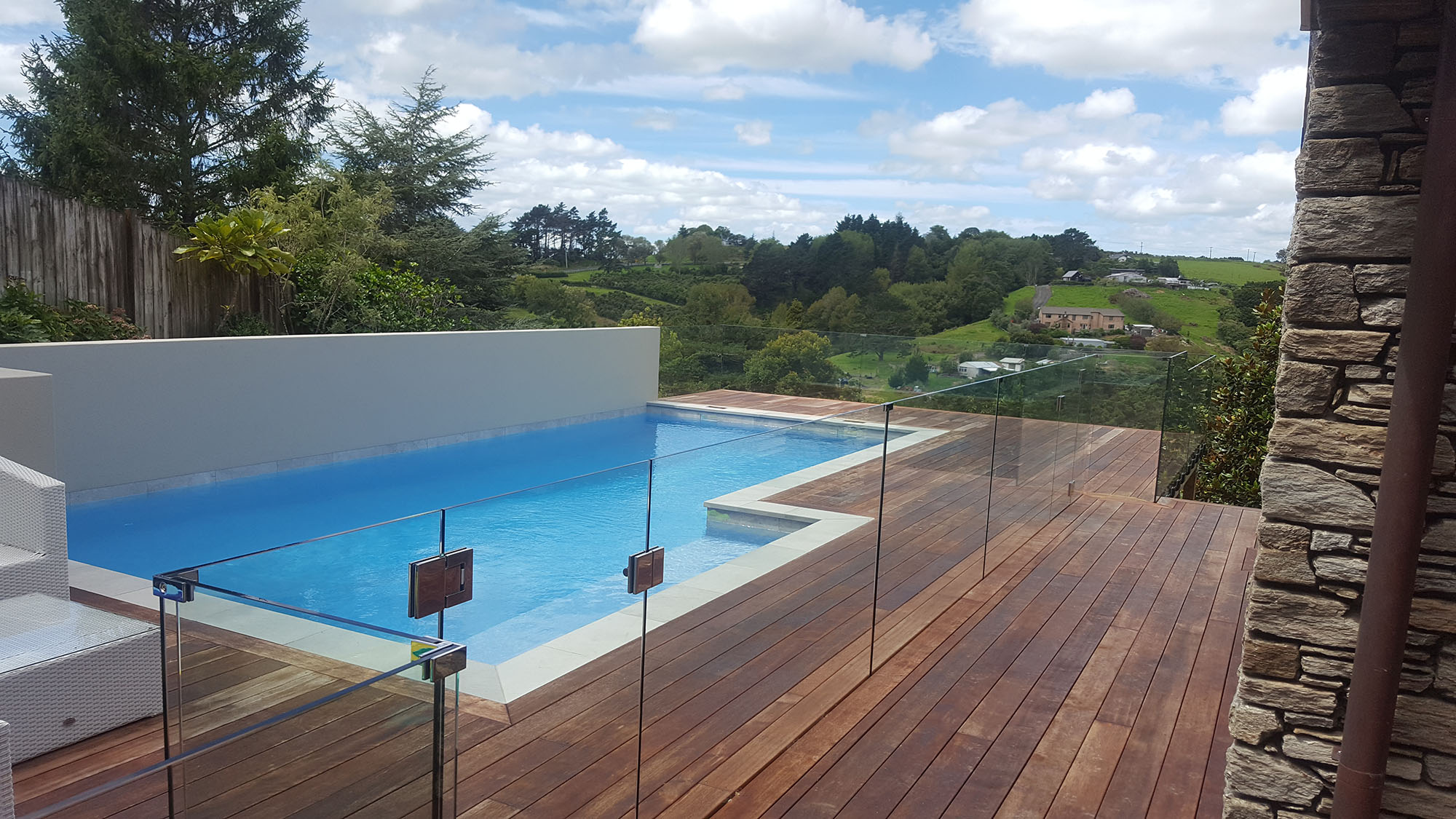 Channel Glass Pool Fencing uses two types of installation, the first being an aluminum U-shaped channel that is bolted to the ground or frame and the glass panels are secured in the channel by a clamping system or by grouting the glass into the channel. This method can be installed after ground works have been completed.
The second method of installation is the glass is fitted to a slot in a concrete slab that has been designed to accept the glass panels. The disadvantage of this system is the installation is permanent and the glass cannot be removed without breaking the panel.
Both methods require careful planning and setup of the foundations or framing to ensure adequate structural strength. The Channel systems utilise stock glass panels and gate systems that are used in the frameless spigot system allowing flexibility
in design.
Structural grade aluminium
Option of matt black, anodised or custom finishes
Requires planning to ensure suitable foundations
Concealed or visible channel options
Nata Tested to Australian Standards 1926, 2208, 1288, 1170
12mm Toughened Safety Glass
Cost-Effective Standard Glass Panels
Minimalist finish with no visible hardware

It is common to use aluminium pool fencing in combination with glass fencing in areas of the pool fence barrier where glass is not suitable, through garden beds and sections of the fenced area that don't have adequate foundations for glass.
We use two types of aluminium pool fencing, standard flat top fencing which is round vertical bars of powder-coated aluminium with a rectangular top and bottom rails that are secured with 50x50mm square posts and small brackets to attach the fence panels to the posts.
The second type of aluminium fencing is the blade or fin type, instead of round tubes of aluminium the blade/fin system is a more modern and contemporary style of aluminium fencing. This system uses the same post and bracket system of the more common tubular or round system.
Both aluminium fence types have matching gates, and the standard colour is a black powder-coated finish, both types are
available as custom painted colours to suit your home.
AS1926 Pool Fence Compliant
Option of Round/Tubular or Fin/Blade styles
Cost-effective barrier in gardens and utility spaces
Structural grade aluminium
Gate systems with Australian Made Latches & Hinges
50x50mm aluminium post system
Can be custom-made for tricky slopes and steps
Key Lockable D&D Technologies Gate Latches
Book Onsite
Measure & Quote
We have professional pool fence and balustrade experts ready to help you.
Book Now

⟶
Send Us Your
Building Plans
For a free glass pool fencing or glass balustrade quote.
Send Plans

⟶
Call Us
We're always available and ready to take you call.
1300 345 277

⟶